preventive conservation courses online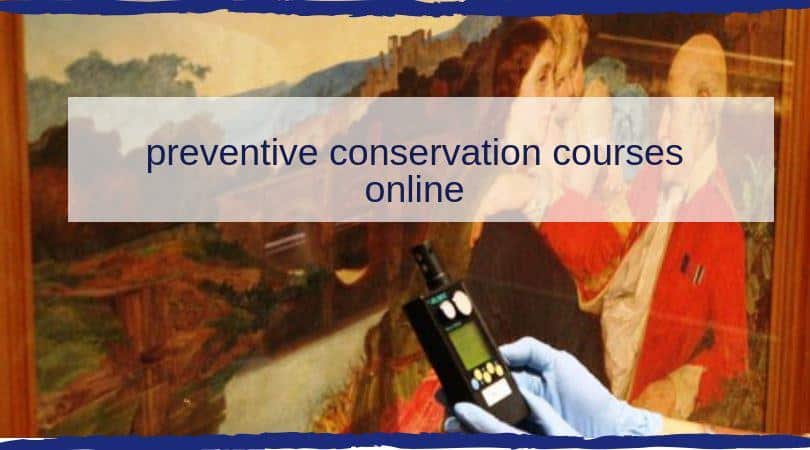 In the preventive conservation courses online you will learn about the concepts and methods of preventive conservation. How to apply these methods in different materials and environmental conditions.
You will access your preventive conservation courses online through an elearning platform to which you have daily access, 24 hours a day.  
What is preventive conservation?
According to the «Professional Guidelines of European Confederation of Conservator-Restorers' Organisations»  - «... Preventive Conservation consists of indirect action to retard deterioration and prevent damage by creating conditions optimal for the preservation of cultural heritage as far as is compatible with its social use.
Preventive conservation also encompasses correct handling, transport, use, storage and display. It may also involve issues of the production of facsimiles for the purpose of preserving the original.»
preventive conservation courses 

The idea behind the preventive conservation courses is, therefore, to be careful: to prevent preservation problems that might be found in the collections. And this assumption, inherent in preventive conservation, is common to all those who, directly or indirectly, deal with heritage value and whose actions aim to enhance, preserve and promote heritage. In other words, care for the memory of the Past so it can have a Future.
PREVENTIVE CONSERVATION ONLINE COURSE
Access 24 hors a day | International certificate
Preventive Conservation | Course Program
Part 1 – Preventive Conservation
General notions
Basic principal
Institutions
Part 2 – Good practices
Contingency plan
Conceiving a preventive conservation plan
 Risk Management Methodology
Part 3 – Agents of deterioration and control measures
Universal agents
Specific agents

Physical agents
Chemical agents
Biological agents
Part 4 – Display materials, storage and handling
---
At the end of preventive conservation courses , the participants will be able to apply methods of preventive conservation. In order to protect our heritage and prevent its destruction:
The main notions of preventive conservation internationally accepted
The methods that must be used before a variety of situations.
The effects of the agents of deterioration on the various materials
Methodology for risk assessment
Who takes this Course?
This course is intended for professionals who are engaged in activities related to Museography, Conservation and Restoration, Tourism professionals and all interested in the subject.
heritage and conservation Courses