Activities Report 2020 | e learning | Citaliarestauro.com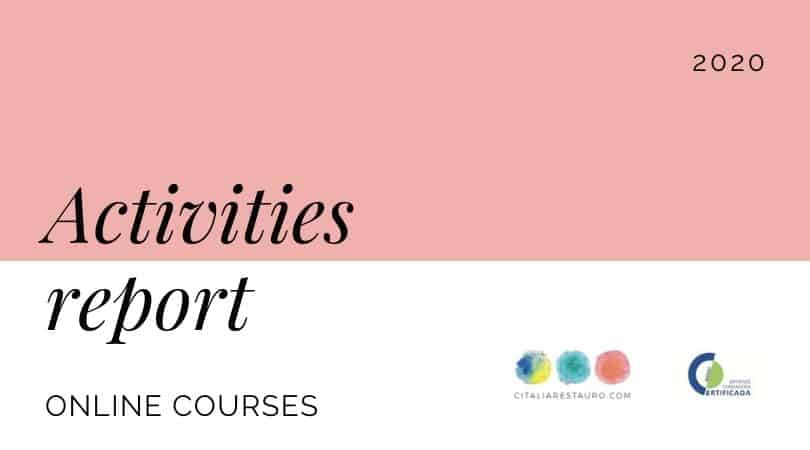 We present the Balance of activities - e learning - for the year 2020.
This document aims to summarize the results achieved in 2020 in relation to e learning , but also covering other activities. But more than just finding results, it will be an opportunity for reflection and finding ways to improve continuously.
The year 2020
The year 2020 was undoubtedly an extremely difficult year for everyone. During which we had to reinvent ourselves, to adapt systematically to the new circumstances and to the uncertainty of tomorrow.
It is now time to look at the year 2020 and make the possible planning for 2021, always knowing that there are no certainties and that the ket words will be to review and reinvent.
We can say that many of the objectives that had been set for e learning in 2020 have been achieved despite the circumstances and constant adaptations. And others, not initially foreseen, were fulfilled in response to the situations generated by the pandemic.
Through a strengthening of publications and content both on the website and on social networks / youtube. In view of the confinement, we appealed to our authors to be able to provide more content for free or, when this was not feasible, at much lower prices.
The response was absolutely fantastic! A huge thank you to everyone.
It is now time to evaluate this path and understand which paths to follow in order to Improve, Always ... With you.
Thank you very much for joining us on this project!
Click on the link to see the balance of activities for e learning in the year 2020
---
---
No documento Balanço de Atividades 2020 pode encontrar a avaliação dos resultados alcançados comparativamente aos objetivos traçados em janeiro de 2020. E ainda a análise de indicadores de execução da formação à distância do ano de 2020.